NEW EXHIBITION
#TENKOKU gThe Tale of Genjih
The oldest story in the world is introduced with TENKOKU, the art of carving letters on stones by Tempoo UCHIMURA

2019/25th of March (Mon.) -31st(Sun)
11:00-18:00
Opening day: 13:00-18:00/ last day: 11:00-16:00

Arai Gallery
1F #5 Taiyo bldg. 7-10-8, Ginza, Chuo-ku, Tokyo, Japan
Tel. 03-3574-6771

For more information, please see the PDF file 12.7MB. (coming soon)

Guess what is carved! Ifll give you the tip! Each stamp is one of the titles of gThe Tale of Genjih
Come and join us at ARAI Gallery to find the answers.

@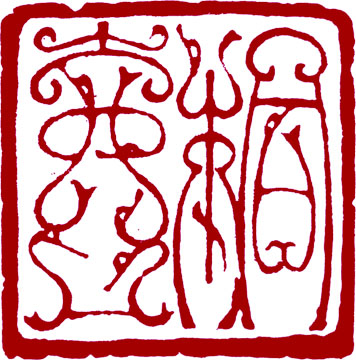 @@@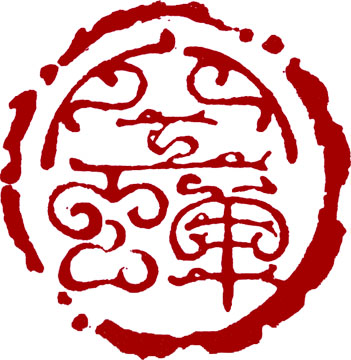 @@@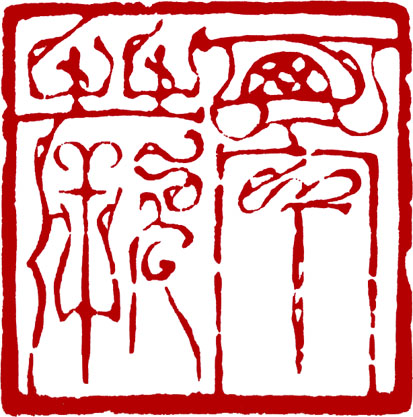 In Stamp, it's the Japanese way to prove oneself. Used on everything from personal notes to official documents, we cannot prove ourselves even for opening a bank account. But different from what we call Hanko, In, or Inkan which are practical, there exists a special In Stamp indicating a writerfs (or painterfs) signature. It is designed artistically in Tensho (old font style) and carved on a stone. That is Rakkan-In Stamp or simply called In Stamp.



CHOCHUTEN STYLE - UNIQUE FONT STYLE


Chochuten style is a special font style derived from Tensho style only for the emperors and the Royal families. They say it was invented more than 1000 years ago and designed in order to show their authority and power. Unfortunately there are very few in Japan who makes a special study of Chochuten style. And it is my honor to introduce you this unique font style. Gradually it has been getting more and more popular among famous calligraphers, painters and so on.



IN CASE OF A FOREIGNERfS NAME


By the way, the Japanese writing system utilizes three different sets of characters called Hiragana, Katakana and Kanji (Chinese character). However the representation can be different according to the person who translates it. I can create the best name suiting the image of the person by combining various different Chinese Characters.
Letfs take the name of NICOLA as an example;

Ni - co - las
'ษ|'ฑ|'็ (Hiragana)
ƒj|ƒR|ƒ‰ (Katakana)
"๘|Œ๕|—' (Kanji)

Now as each syllable of those three different types of letters above has the same sound phonetically, we can create Nicola in KANJI as well.
Incidentally ""๘ (niji)" means rainbow, "Œ๕(hikari)" light, and "—' (arashi)" storm. Thus it might be important to pick up the mutually related characters to make a certain image. In order to customize Rakkan-In Stamp, it is preferable to rewrite the name in Tensho style.


At your convenience, please give us your request:
1. What you would like to have carved, e.g. your name, favorite words.
(Free translation available)
2. Font style (5 fonts available, Hiragana, Katakana, Kanji, Tensho, Chochuten)
3. Size of In Stamp (see the tariff below)
4. Shape of In Stamp : Square (fixed)
5. Material of In Stamp : Stone (fixed)
6. Case for In Stamp : Attached

PRICE LIST (one letter)

| | | |
| --- | --- | --- |
| Font | Hiragana, Katakana, Kanji, Tensho | Chochuten |
| Size | | |
| 1.5cm x 1.5cm | \ 8.000 - | \26.000 - |
| 2.0cm x 2.0cm | \10.000 - | \28.000 - |
| 2.5cm x 2.5cm | \12.000 - | \30.000 - |
| 3.0cm x 3.0cm | \13.000 - | \31.000 - |


Please read the following terms and contract:
It takes about 3 weeks to get your In Stamp ready for shipment.
3-day delivery is possible with an extra charge.
Payment in advance.
Cancellation of In Stamp orders will not be accepted once they have been done.
In Stamp are NOT RETURNABLE.

Ink for In Stamp (Wide selection available)
Shuniku casual red (\1,000) quickly dry & convenient
Koumyo professional light red 60g (\2,760)
Birei professional dark red 60g (\4,725)

For more details and orders, please contact me:
Tempoo Uchimura
1-4, Ryonan-cho, Fujiidera, Osaka, 583-0016, JAPAN
tel/fax +81-72-930-1521
email: vurouge@jp.bigplanet.com
URL : http://www.21rouge.com
@@@@or
@@@ http://wasean.art.coocan.jp


Born in 1955
Started to curve Rakkan-In Stamp while in Keio University (1977)
Received several prizes in Tenkoku Division
Started to teach Tenkoku (2006)
Started to demonstrate Tenkoku at Kintetsu Department Store (2007)
Started to demonstrate Tenkoku at Sogo Depatment Store (2008)
Introduced by Asahi Shinbun, Bijustu Nenkan (Art Annual), and more presses
Giving 12 or more lessons every month in Osaka


*Tenkoku...the art of carving letters on stones, the art of Rakkan-In Stamp



passed exhibition
2008 Osaka
2011 Osaka
2013 Kyoto
2015 Tokyo
2016 Guam (USA)
2017 Tokyo
2018 Osaka

(photo)




Please search TEMPOO UCHIMURA by Google. etc
You will find it in the New Year's Greeting book (special edition) and enjoy 16 stamp samples.